Back in the Strike Team HQ – where our hero appears to be doing even better than expected!
Also a peek at what's being developed for the weaponized Strike Suit 2.0 – we'd been toying along the lines of a sharpened tonfa but we both agreed that we didn't want Countdown to have a lot of gear dangling from his belt. So it's being added directly into the armored forearm brace and activated by a polyetherimide spring mechanism. No metal, of course; Strike Gate rules still apply.
As stated, our updates will be sporadic for a while (lots of freelance gigs piling on) but we're working from a script so we know where we're going. We've paused the Patreon during this period, but we'll continue to post high-rez images and other free goodies there for those who signed up!
And hey – FREE COMIC BOOK DAY!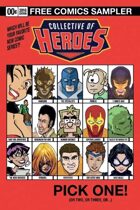 More below!
---
↓ Read the rest of this entry…